Ajust: Old spelling of the word adjust, meaning: 
Alter or move (something) slightly in order to achieve the desired fit, appearance, or result.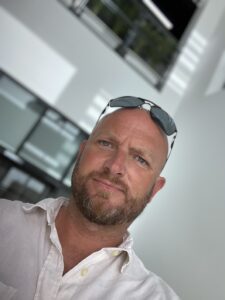 My name is Hendrick A.J. Fruergaard, and I am living in Dubai. I have worked in sales since the late 90s, and as a consultant, coach and mental trainer for more than 15 years.
I have worked and coached within personal coaching, career advice/coaching, sales/management coaching and team & parcoaching. In 2015 I was certified as an International Executive Coach, and in addition have a number of certifications within behavior and behavior reaction – DiSC profiling etc. I have more than 1,000 coaching sessions behind me – both private customers/clients, professionals and athletes – including as a coach/mental trainer for e.g. national team horse rider.
My strength is the mental influence, as well as development in practice. Today, most of my courses take place online/virtual and with weekly follow-ups/reports, so we ensure that you are kept on track.
Chemistry is one of the most important factors if an accelerated and profitable process is to be achieved, which is why I always give a start-up session u/b, where we talk through the "project" – and then the process is determined.
Hendrick helped our sales managers and sales reps with sales coaching for a few months. The result was impressive in actual numbers and the attitude and feedback from the sales team. I can highly recommend Hendrick both as a coach and as a speaker… (Erik Bjerlestam, CEO Bfound)
A typical course is over 12 weeks, with weekly follow-up. 9 virtual coaching sessions as well as development and processing of a personal vision board/action plan.
I am a partner of GROWU.AE, that is focused on business and corporate services and consulting.