With almost 20 years of knowledge and experience as a management consultant, strategy advisor and sales/leadership training – where of the last 7 in Dubai, i can offer you a skilled, disruptive thinking and skilled networker with diverse and broad inputs and sparring.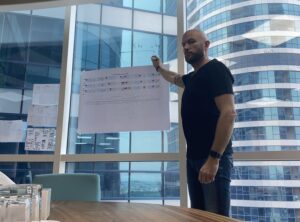 I work on hourly and/or daily basis, with a daily price on AED 6.500,- (if not on contract) below is an example of an agreement of developing and sparring.
AED 13.495,-/month (billed quarterly up front, otherwise AED 13.995,-)
5 days/month, where of 1 can be delivered remote/virtual (in average delivered over a 3months)
+ Daily follow up/support through email, WhatsApp etc. (Monday-thursday)
I watch, I read facts, I take decisions and I move fast, full throttle

HH Sheikh Mohammed bin Rashid Al Maktoum
Read more about corporate consulting and coaching here: www.GROWU.AE
Click below to contact me through WhatsApp or book a intro call, so we can start up development.