DiSC – Profiling & Development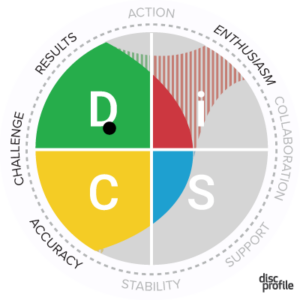 I use DiSC as an important tool in both personal development, coaching, team development and ideation processes. I always recommend companies to use DiSC, as the opportunities gained from the knowledge it provides can support both the growth of the company/team as well as the individual people and their results in teamwork, processes and communication/collaboration in general. In addition, it is a powerful tool for coaching and managing employees and teams.
The profile itself is taken online, with feedback from a certified consultant (such as myself), and it can then be followed up with workshops or incorporating it into future projects, which I can of course assist with.
Read any more about DiSC here.
I have been DiSC certified in a wide range of their tools since 2012, including Sales, Leadership, Workplace, Culture, etc.
Feel free to contact me for a price for DiSC profiles and/or a course based on DiSC.